Vueron Newsletter
1. Level 4 Autonomous Driving Shuttle to Undergo Test Run at Incheon Airport
Incheon International Airport will pilot an autonomous driving shuttle service. The pilot program will include two types of shuttles: a regular shuttle and a reservation shuttle.
The shuttle service will run between Terminal 1 and a long-term parking lot at the airport.
The shuttles will travel at speeds of 30 to 50 kilometers per hour.
The service operates on weekdays from 10 a.m. to 4 p.m. with two to three runs per hour.
Reservations for the shuttle are required, with a minimum of two to four passengers, and must be made at least five minutes in advance.
The autonomous shuttle will have Level 4 or higher autonomous driving technology, but a driver and safety personnel will be on board in case of emergencies.
The pilot phase will include autonomous operation in the parking lot, but a driver will control the shuttle in the section with heavy traffic between Terminal 1 and the parking lot.
The airport plans to collect empirical data and make improvements based on the pilot program results.
There are plans to expand autonomous transportation, including a shuttle connecting Terminals 1 and 2 and the introduction of autonomous personal mobility in Terminal 2.
The pilot program aims to collect data and improve the service, with potential expansions to other parts of the airport in the future.
2. Sichuan's first demonstration lines for commercial use of self-driving vehicles launched in Chengdu
Citizens in Chengdu, China, can use autonomous driving vehicles for free for commuting or sightseeing for a month.
A commercial trial of intelligent connected vehicles (ICVs) began in Chengdu's Longquanyi district on October 30 in partnership with Dongfeng USharing Technology Co., Ltd.
The trial includes 20 self-driving shuttle buses and 16 Robotaxis with level 4 autonomous driving capabilities.
These vehicles are equipped with sensors, cameras, and hardware and software for autonomous driving, enabling them to navigate urban roads autonomously, recognize obstacles, traffic lights, and overtake other vehicles.
Each vehicle has a safety operator onboard to handle unexpected situations.
Dongfeng USharing has planned two demonstration lines spanning over 30 kilometers with 16 smart bus stops.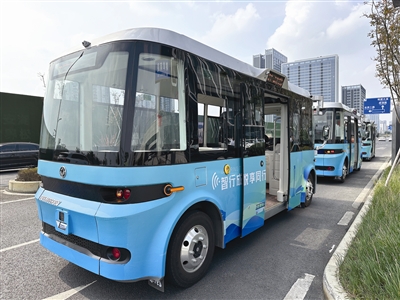 Chengdu is actively promoting autonomous driving technology by offering free autonomous transportation to its citizens, demonstrating a commitment to the development of self-driving vehicles. The collaboration with Dongfeng USharing showcases partnerships between government entities and private companies in advancing autonomous mobility solutions.
3. Geely and Baidu officially launch JiYue 01 ROBOCAR with AI and voice-activated parking
Geely and Baidu have officially launched the 01 ROBOCAR, the world's first consumer vehicle featuring Baidu's Apollo suite of Level 4 autonomous driving solutions in China.
Baidu and Geely formed a partnership to produce autonomous electric vehicles (EVs) under the JIDU marque, focusing on autonomous driving and human-machine interaction technologies.
The 01 ROBOCAR features Geely's Sustainable Experience Architecture (SEA) and comes with two battery variations, offering 342 miles and 447 miles of range.
The EV can recharge from 10% to 80% in under 30 minutes on a DC fast charger and offers single and dual motor configurations with up to 400kW of power.
It uses Qualcomm's 8295 intelligent vehicle cockpit chip and SIMO speech recognition technology for fast, complex voice interactions.
The ROBOCAR JiYue 01 supports voice-activated parking outside the vehicle and uses NVIDIA DRIVE Orin autonomous drive chips with multiple sensors for autonomous capabilities.
ROBO Drive Max is a subscription model that offers autonomous lane changing, overtakes, highway maneuvers, obstacle avoidance, and more.
JiYue plans to expand the ROBOCAR's autonomous capabilities to 90% of China's highways and several cities.
Deliveries of the 01 ROBOCAR will begin shortly, but pricing details have not been disclosed.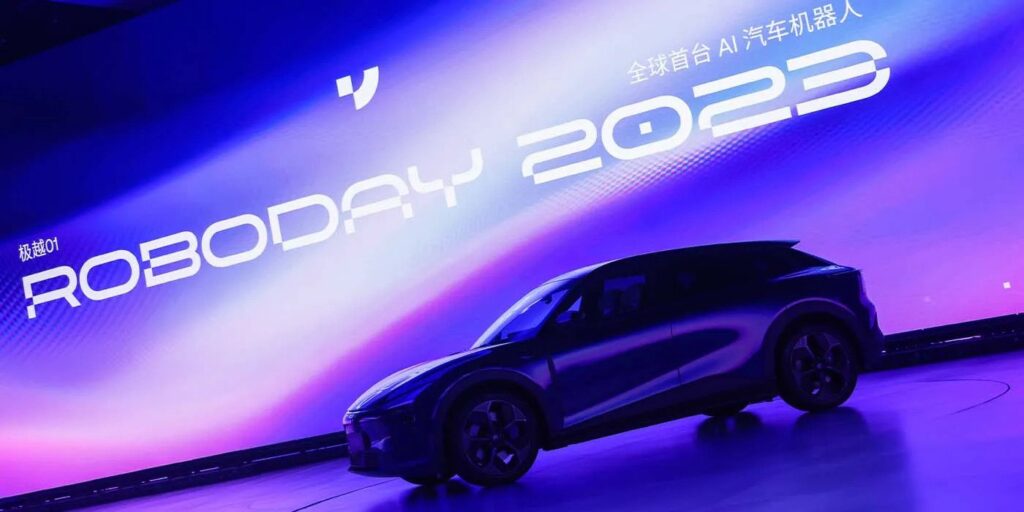 The inclusion of advanced features like voice-activated parking and robust autonomous capabilities demonstrates the vehicle's focus on user convenience and safety. The announcement of an upcoming second model indicates continued investment in the development of autonomous vehicles by JiYue marque.
4. Hesai Announces Automotive Lidar Design Win with Leapmotor for Its New Series Production Vehicle
Hesai Technology has secured a design win with Chinese electric vehicle manufacturer Leapmotor for its ultra-high-resolution, long-range lidar AT128.
Leapmotor, a technology-driven EV company, aims to provide consumers with a convenient and safe driving experience and has developed the "LeapPilot" intelligent driving assistance system.
Hesai's AT128 lidar has been in mass production since last year, with over 20,000 monthly deliveries and over 130,000 cumulative units delivered as of Q2 2023, used in series production vehicles from leading OEMs.
The partnership signifies Leapmotor's confidence in Hesai's product quality and mass production capabilities, and both companies plan to collaborate in expanding the global EV market, enhancing rider safety and smart driving experiences worldwide.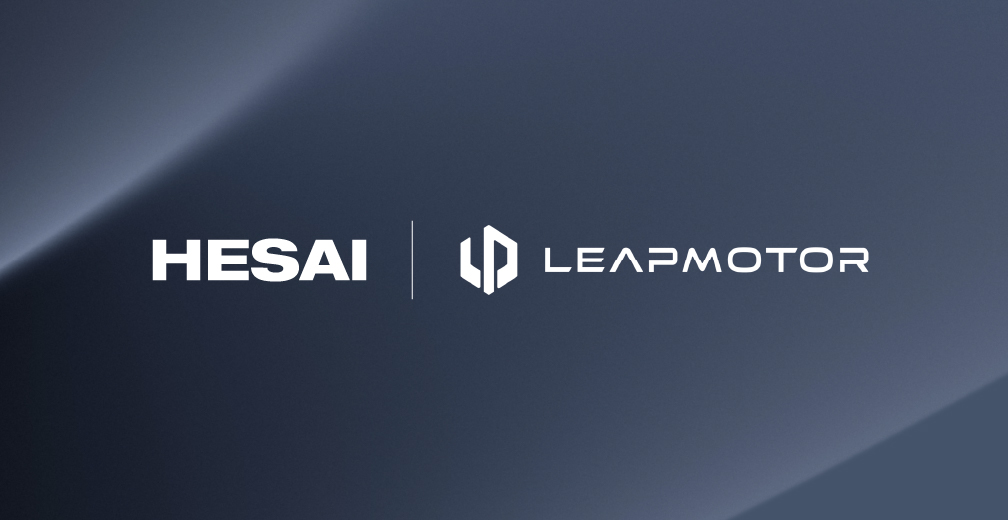 The partnership with Leapmotor reflects the growing demand for advanced sensing technologies in the electric vehicle sector, with lidar playing a crucial role in enhancing autonomous driving capabilities and safety. Collaboration between technology-driven EV companies and sensor technology providers like Hesai is essential for the continued development and adoption of electric vehicles and intelligent driving systems.
5. Australia's Carbonix signs partnership with Pointerra
Pointerra and Carbonix have partnered to deploy Pointerra's 3D LiDAR data processing solution to support Carbonix's autonomous drone platforms in Australia.
Carbonix specializes in drone platforms for the utility and mining sectors and has introduced a Beyond Visual Line of Site (BVLOS) drone equipped with 3D LiDAR and 2D imagery sensors.
Pointerra's LiDAR processing solution will be used for post-flight data processing and calibration, and it will also be sold as the LiDAR processing solution for third parties purchasing Carbonix drone solutions.
Both companies have mutual customers and prospects in the Australian utilities and mining sectors and aim to enhance the overall customer value proposition by offering integrated solutions for data collection and analytics.
The partnership aims to provide precise and efficient data collection, processing, and analysis for informed decision-making, particularly in the mining and power utility sectors.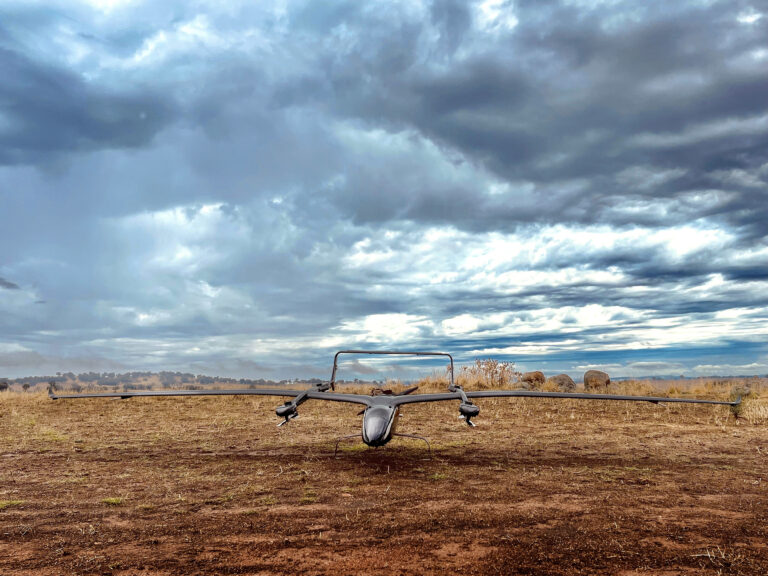 Combining advanced drones with LiDAR processing capabilities enables more comprehensive and accurate data collection, which can lead to actionable insights for asset owners and operators. By expanding their operations and commercial offerings, the partnership aims to drive innovation and efficiency in data-driven decision-making processes, benefiting the Australian and US mining and power transmission and distribution sectors.
---
*Contents above are the opinion of ChatGPT, not an individual nor company