Vueron Newsletter
1. D2 Traffic Technologies Announces Strategic Partnership with Innovusion to Drive Next-Generation Traffic Solutions
D2 Traffic Technologies is partnering with Innovusion, a LiDAR technology pioneer, to enhance traffic management solutions in the US ITS (Intersection-based Detection) market.
The partnership leverages Innovusion's advanced LiDAR technology for highly precise 3D sensing in autonomous vehicles and ADAS.
The goal is to integrate Innovusion's LiDAR sensors into D2 Traffic Technologies' products for improved traffic management solutions.
Innovusion's LiDAR sensors excel in various environmental conditions, offering high-resolution 3D imaging for accurate vehicle, pedestrian, and object detection.
The collaboration aims to create more intelligent and efficient urban environments, benefitting both autonomous vehicles and advanced safety systems.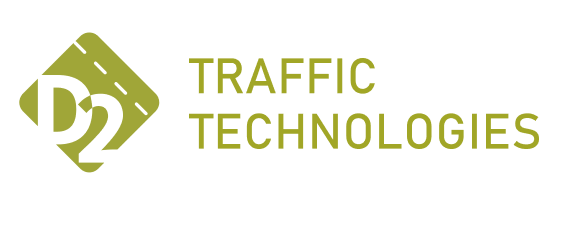 This partnership signifies a significant advancement in intelligent traffic management systems, particularly for urban environments. The partnership between a leading traffic management solution provider (D2 Traffic Technologies) and a LiDAR technology expert (Innovusion) shows a commitment to driving innovation and addressing the challenges of modern urban mobility.
2. KG Mobility to develop Level 3 autonomous driving system
KG Mobility Corp. from South Korea partners with Autonomous a2z, a domestic autonomous self-driving software company.
The partnership is outlined in MOU and aims to collaborate on developing autonomous self-driving systems and manufacturing unmanned vehicles.
Collaborative milestones in the MOU include advancements in autonomous technology, joint R&D for SAE Level 2 driver assistance, development of SAE Level 3 and 4 vehicles, system specification collaboration, and component sharing for mass production.
KG Mobility mentions its ongoing work on Deep Control, an advanced driver assistance system supporting Level 2 driver assistance.
The partnership aligns with KG Mobility's previously announced Autonomous Self-Driving Roadmap, and they remain dedicated to partnering with leading tech companies in the autonomous field.
Autonomous a2z recently secured $25 million in Series B funding and showcased an electric vehicle with their in-house autonomous self-driving software, aiming to develop it into the Proto-Car by 2024.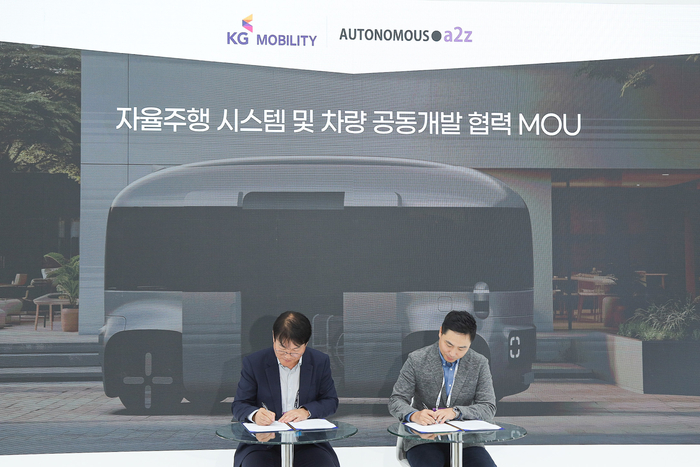 This partnership between KG Mobility and Autonomous a2z shows a commitment to advancing autonomous self-driving technology and unmanned vehicles in South Korea. The collaboration spans various levels of autonomous technology development, from Level 2 to Level 4, highlighting the effort to create more advanced self-driving systems.
3. Innoviz Debuts Lidar-Based Bridge Collision Detection System
The U.S. experiences an average of 15,000 bridge and tunnel collisions annually, costing around $18,000 per accident, totaling $270 million in damage.
Israeli lidar supplier Innoviz has created a Bridge Collision Detection system to prevent these accidents, which will be deployed by Drive Group, a leading toll road operator in Israel.
The system uses roadside lidar sensors placed before the bridge or tunnel to measure the height of passing trucks. If trucks exceed predefined height limits, the system captures images and license plate information and sends it to authorities for intervention.
Innoviz's system is more accurate than existing camera-based anti-collision systems and helps avoid false alarms.
A successful pilot program was completed with Drive Group to verify the technology before full implementation.
Drive Group intends to distribute this solution globally to reduce road accidents.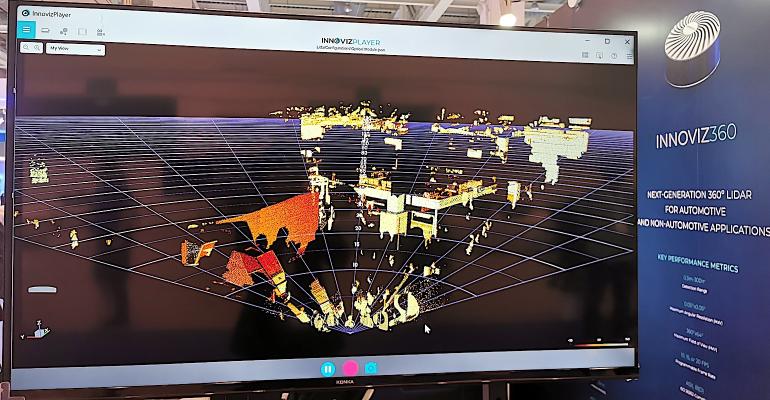 Bridge and tunnel collisions pose significant financial costs, and the adoption of lidar-based technology by Innoviz offers a solution to prevent such accidents. The accuracy of lidar in measuring dimensions and avoiding false alarms can make a significant impact in reducing accidents and damage to infrastructure.
4. SK Telecom, Mars Auto to advance self-driving large trucks
SK Telecom and autonomous driving startup Mars Auto have signed an MOU to collaborate on advancing autonomous driving technology for large trucks.
The cooperation focuses on collecting driving data and developing autonomous driving tech using AI in the middle mile delivery sector, where shippers transport goods to carriers.
Mars Auto, which successfully test-drove autonomous trucks in South Korea in 2019, is entering the freight transport business.
SK Telecom will contribute its expertise in 5G mobile communications, AI, and autonomous driving to support Mars Auto's ambitions in the autonomous cargo transport market.
Autonomous driving for large trucks, with their longer braking distances and complex challenges, relies on real-time communications technology.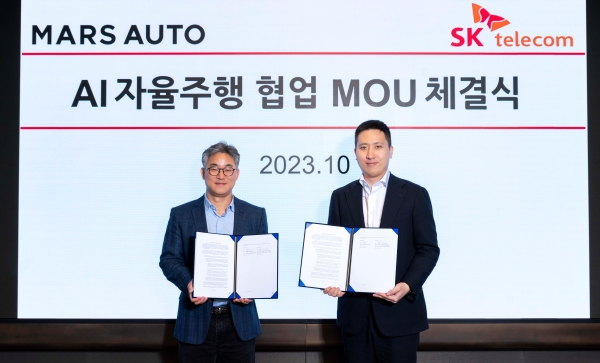 The partnership between SK Telecom and Mars Auto in advancing autonomous driving technology for large trucks highlights the importance of real-time communications technology, especially for vehicles with longer braking distances and complex challenges. This collaboration has the potential to enhance efficiency and cost-effectiveness in the freight transport industry and drive innovations in logistics and supply chain operations.
5. California DMV immediately suspends Cruise's robotaxi permit
The California Department of Motor Vehicles (DMV) has immediately suspended Cruise's deployment and driverless testing permits, ending its robotaxi operations in San Francisco.
The suspension came after Cruise withheld video footage from an ongoing investigation related to an incident where a pedestrian was struck by a human-driven car and then by a Cruise robotaxi.
The DMV deemed Cruise's actions as putting public safety at risk and claimed Cruise misrepresented information regarding its autonomous vehicle technology.
Cruise, a GM self-driving car subsidiary, disputes the suspension and claims it shared the entire video with the DMV.
The suspension affects Cruise's ability to offer commercial robotaxi services in San Francisco, and it follows a series of incidents and investigations involving the company.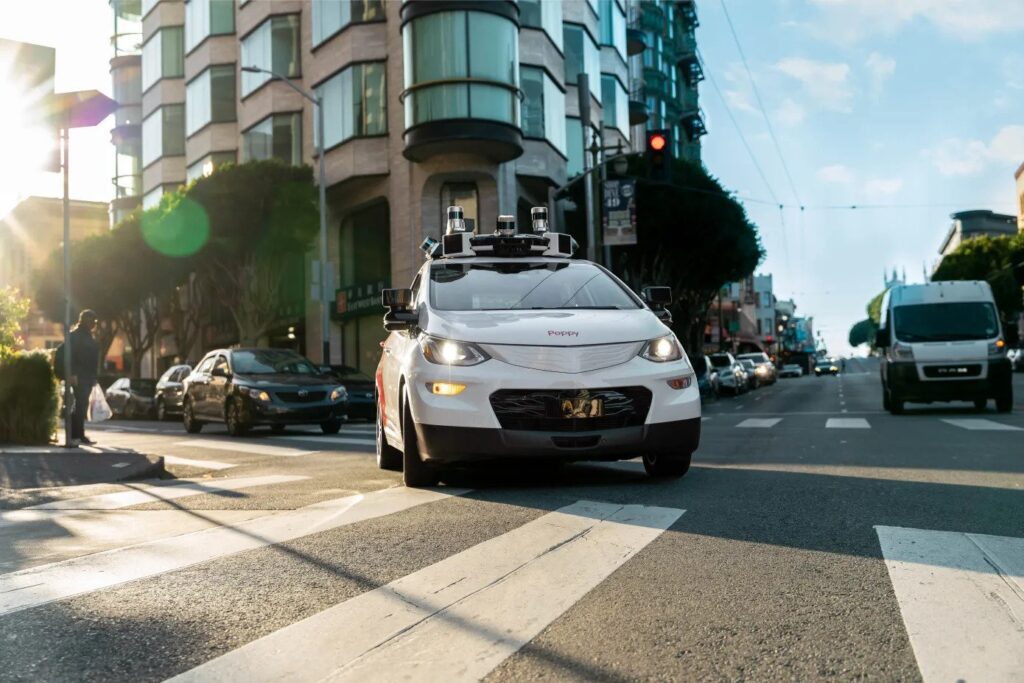 The suspension of Cruise's permits represents a significant setback for the development and deployment of autonomous vehicles in the ride-hailing sector, particularly in San Francisco. The decision highlights the regulatory challenges and public safety concerns associated with autonomous vehicle testing, especially when accidents or incidents occur.
---
*Contents above are the opinion of ChatGPT, not an individual nor company